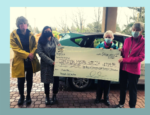 This past winter, Berwick Retirement Communities had seven of their sites raise funds for their local CMHA Branches. It all started when one resident expressed the interest to raise funds for mental health services and programs.
Here in Victoria, we were fortunate to receive funds from Berwick House and Berwick Royal Bay. With these funds, CMHA Victoria will be able to help support services and programs that target older adults and seniors. In total, Berwick Retirement Community raised $1905.50 for the Canadian Mental Health Association. The breakdown of funds to CMHA sites is as follows:
CMHA Port Alberni $713
CMHA Mid Island (Nanaimo) $376
CMHA Kamloops $190
CMHA Victoria $625.50
We express our gratitude to Berwick, and wish them a safe and sunny springtime.
You can check out your local Berwick Retirement Community here: https://www.berwickretirement.com/
Find them on Facebook @berwickrc